Open Outcry (Trading Floor) 9:30 am - 1:15 pm Central Time, Monday - Friday
Daily Price Limit $0.60 per bushel expandable to $0.90 and then to $1.35 when the market closes at limit bid or limit offer. There shall be no price limits on the current month contract on or after the second business day preceding the first day of the delivery month.
Settlement Procedure Physical Delivery
Last Trade Date The business day prior to the 15th calendar day of the contract month.
Last Delivery Date Second business day following the last trading day of the delivery month.
Product Ticker Symbols CME Globex (Electronic Platform) ZW W=Clearing
Open Outcry (Trading Floor) W
Exchange Rule These contracts are listed with, and subject to, the rules and regulations of CBOT.
Black Sea Wheat Futures
Deliverable Grade:
Weight: Minimum 76 kg/hl
Moisture: Maximum 14%
Grain Impurities: Maximum 8%
Protein (on dry matter basis): Minimum 11.5%
Wet Gluten Content: Minimum 23%
Falling Number: Minimum 230 sec
Misc. Impurities: Maximum 2%
Bug Damage: Maximum 1.5%

Delivery Locations. The default delivery locations shall be:
Russia
Port of Novorossiysk
Port of Tuapse
Port of Taman
Ukraine
Port of Illichivsk
Port of Odessa
Port of Sevastopol
Port of Yuzhny
Port of Nikolaev
Romania
Port of Constanta

Pricing Unit     U.S. Dollars and Cents per Metric Ton

Tick Size (minimum fluctuation)     $0.10 per Metric Ton ($13.60 per contract)

Contract Months/Symbols     Mar, May, Jul, Sep, Dec

Daily Price Limit     $22 per Metric Ton above or below the previous day's settlement price. No limits in the spot contract during its last two days of trade.
Last Trade Date     Last business day of the month prior to the contract month.
Last Delivery Date     First business day of the contract month.
Futures MATIFF, Paris, France - milling wheat
Milling Wheat Futures
Unit of trading: Fifty tonnes
Origins tenderable EU origin
Quality Sound, fair and merchantable quality of the following standard:
Specific weight 76 kg/hl
Moisture 15%
Broken grains 4%
Sprouted grains 2%
Impurities 2%
Premiums and discounts to reflect the difference between the delivered and the standard quality apply in accordance with Incograin Contract No.23 and the Technical Addendum No.2
Delivery months January, March, May, August, November such that eight delivery months are available for trading.
Price basis Euros and Euro cents per tonne, in an approved public silo in Rouen, France
Minimum price movement (tick size and value) 25 Euro cents per tonne (€12.50)
Last trading day 18.30 on the tenth calendar day of the delivery month (if not a business day, then the following business day)
Notice day/Tender day The first business day following the last trading day
Tender period Any business day from the last trading day to the end of the specified delivery month
Trading hours 10.45 - 18.30
Milling Wheat - Asx, Australia
Australian Stock Exchange Limited
Contract Specifications and Trading Hours: Australian Milling Wheat
Contract Unit: 20 Metric Tonnes
Quotation/Tick Size: Aud $0.10 Per Tonne, Tick Value $2.00 Per Contract
Contract Months: Jan, Mar, May, Jul, Sep, Nov. Last Trading Day and Maturity Date The Third Thursday Of The Maturity Month, Provided This Is A Trading Day.
Trading Hours: 9.50am To 5.00pm (Sydney Time). Trading Ceases At 12 Noon On Maturity Date.
Settlement Method: Physical Delivery
Settlement Day: The Business Day Following The Notice Day.
Deliverable Grade: Australian Wheat As Per Awb Bin Grade Apw2 Or Better, Transferred On A Grower Receival Stack Average Basis.
Internet: Http://Www.Asx.Com.Au/Futures
Euro Wheat - Budapest, Hungary
Bud-Euro Wheat Futures Contract Details
Trading Unit: 100 Metric Tons
Price Quotation: Huf Per Ton
Tick Size: Huf 10 Per Ton Or Huf 200 / Huf 1,000 Per Contract
Delivery Months: March, May, August, September, December
Trading Months: Up To 17 Months Ahead
Last Trading Day: Last Trading Day Of The Month Prior To The Delivery Month
Daily Price Movement Limit: Huf 800 Per Ton Or Huf 16,000 Per Contract Above Or Below The Previous Day'S Settlement Price. No Limit Is Set If The Market Is Limit Up/Down For Five Consecutive Trading Days By Limit And For The Nearby Delivery Month On The Last Trading Day Of The Month Prior To The Delivery Month.
Initial Margin: Huf 16,000 Per Contract
Delivery Point: Budapest
Wheat world wide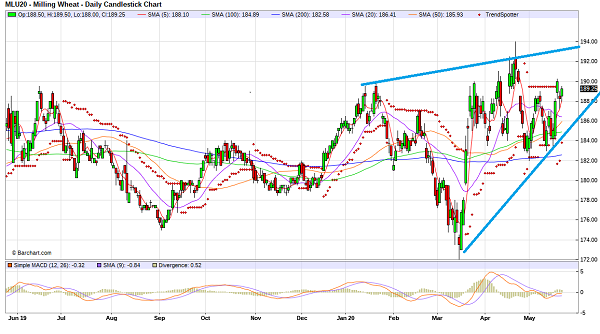 {jcomments on}