Sell, Yellow Millet, PAK
Price 220.00
Packing: FCLs, in bulk
Trade: Offer
Dated: 04.07.2017
Origin: Ukraine
QTY: 220
Units: MT
Rate: usd/mt
ICTs: CFR
Place: Karachi, Pakistan
Details:
The SELLER are ready to offer and looking for the Buyer ready to buy commodity.
Quality of Yellow Millet .
Moisture – max. 14%.
Purity – min.98%.

Payment for the goods to be made: CAFD (20/80) Cash Against Fax Documents) or 100 % CAD Cash Against Documents (Incasso Bank to Bank) bank
in US dollars by cash transfer to the Seller's account within 2 banking days against presentation the following documents:
Commercial invoice for total value;
3/3 original Bills of Lading;
Certificate of Origin;
Phytosanitary Certificate;
Fumigation Certificate;
Certificate of quantity and quality;
Certificate of clearness of containers;
Packing list;
Quality and Quantity of the goods are final at loading based on quality certificate issued by GAFTA, IFIA member inspection company ordered and paid by seller.ll other terms, conditions and rules, not in contradiction with the above contained in GAFTA, UPC 600, Incoterms 2010 of which the parties admit that they have knowledge.
For packing in 50 kg, 25 kg bags please add 10$/MT
Please send order on CFR Basis.
Image: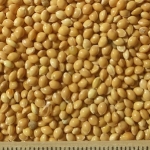 Contact Author