We are trading, selling and buying Buckwheat with buyers and sellers in Europe, Asia, Africa, Middle East and America shipping to any save word port by containers, trucks or by vessels. Quality is Moisture max 14%; Purity min 98% but could be better based on your demands. Packing is in bulk, big bag or 25/ 50 kg PP bags. Delivery could be as per Incoterms 2010 (FCA, FAS, FOB, DAP, CFR, CIF) to ASWP (any save word port) by containers, trucks or by vessels. Prices are negotiable and valid limited time only or until stock is last. Payments could be done by LC at sight (Letter of Credit) with UCP 600 apply, CAD (cash against documents), CAFD, T/T. Samples are available upon request and cost of delivery to be paid by buyer but quality will be based in the contract concluded.
Buckwheat seeds are dehulled, and the remaining seed material, called a groat, is ground into flour.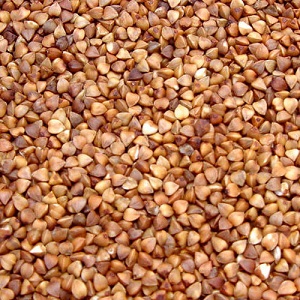 For Ukraine DSTU 4524:2006 BUCKWHEAT, specifications.
For Russia GOST 19092-92 Buckwheat. Requirements for state purchases and deliveries.
The flour is often mixed with flour from other cereal grains, to make breads, breakfast cereals or other multi-grain products.

In Russia, where buckwheat is native, it is used in a variety of food products, including roasting the whole groats to make -kasha-. Buckwheat is high in lysine, which wheat and corn are low in. The protein content of dehulled buckwheat is about 12%, with only 2% fat.

For Ukraine DSTU 4524:2006 BUCKWHEAT, specifications.
For Russia GOST 19092-92 Buckwheat. Requirements for state purchases and deliveries
The quality shall correspond and based on buyer's secification
1 Moisture % Max 14.5
2 Content of nucleous % Max 71
3 Grains Impurities % Max15.0
3.4 Sprouted grains %
3.1 Broken grains %
3.2 Partly eaten grains (on sieve 3 mm) %
3.3 Burst grains %
4 Waste impurities % Max 3.0
4.1 All that passes through 3.0 mm sieve %
4.2 Mineral impurities % Max 0.2
4.2.1 Incl: gravel % Max 0.1
4.3 Organic impurities %
4.4 Seeds of wild and cultivated plants and buckwheat flattened, highly immature, light colored with minimum nucleus content %
4.5 Damaded grains % Max 0.5
4.6 Harmful impurities % Max 0.2
Goods to be sound, loyal and merchantable free from alive insects and foreign smell.
Quality of the goods is final at staffing in containers based on quality certificate issued by GAFTA member inspection company ordered and paid by seller.

Shipment Terms: Payment for the goods to be made CAD (Cash Against Documents) or LC (Letter of credit) at sight by the Buyer in US dollars by cash transfer to the Seller's account within 2 banking days against presentation the following documents:
List of loaded containers confirmed by Inspection company Commercial invoice for total value of the contract;
CCD (cargo customs declaration)
3/3 original Bills of Lading + 5 Non-Negotiable copies;
Certificate of origin;
Phytosanitary certificate;
Fumigation certificate;
Non-Radioactivity certificate;
Certificate of quantity and quality;
Certificate of clearness of containers;
Packing list;
All other terms, conditions and rules, not in contradiction with the above contained in GAFTA 86, UPC 600, Incoterms 2010 of which the parties admit that they have knowledge.