If the cash price declines by harvest, any loss incurred will be offset by a gain from the hedge in the futures market. This particular type of hedge is known as a short hedge because of the initial short futures position.
With futures, a person can sell first and buy later or buy first and sell later. Regardless of the order in which the transactions occur, buying at a lower price and selling at a higher price will result in a gain on the futures position.
Selling now with the intention of buying back at a later date gives you a short futures market position. A price decrease will result in a futures gain, because you will have sold at a higher price and bought at a lower price.
For example, let's assume cash and futures prices are identical at $9.00 per bushel. What happens if prices decline by $1.00 per bushel? Although the value of your long cash market position decreases by $1.00 per bushel, the value of your short futures market position increases by $1.00 per bushel. Because the gain on your futures position is equal to the loss on the cash position, your net selling price is still $9.00 per bushel.
Note: When hedging, you use the futures contract month closest to the time, but not before you plan to purchase or sell the physical commodity.
What if soybean prices had instead risen by $1.00 per bushel? Once again, the net selling price would have been $9.00 per
The Long Hedge
On the other hand, livestock feeders, grain importers, food processors and other buyers of agricultural products often need protection against rising prices and would instead use a long hedge involving an initial long futures position.
For example, assume it is July and you are planning to buy corn in November. The cash market price in July for corn delivered in November is $5.50 per bushel, but you are concerned that by the time you make the purchase, the price may be much higher. To protect yourself against a possible price increase, you buy Dec Corn futures at $5.50 per bushel. What would be the outcome if corn prices increase 50 cents per bushel by November?
Conversely, if corn prices decreased by 50 cents per bushel by November, the lower cost of corn in the cash market would be offset by a loss in the futures market. The net purchase price would still be $5.50 per bushel.
Remember, whether you have a short hedge or a long hedge, any losses on your futures position may result in a margin call from your broker, requiring you to deposit additional funds to your performance bond account. As previously discussed, adequate funds must be maintained in the account to cover day-to-day losses. However, keep in mind that if you are incurring losses on your futures market position, then it is likely that you are incurring gains on your cash market position.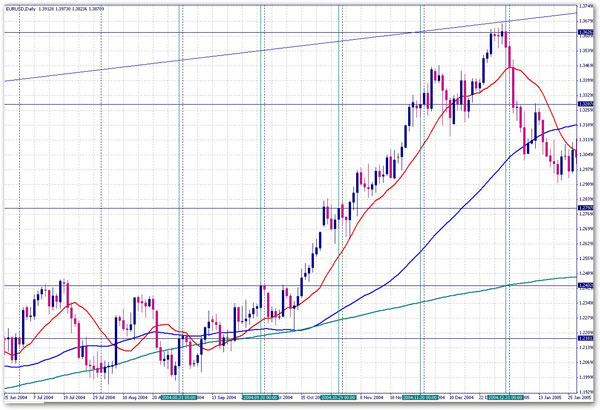 {jcomments on}