Buy, Milling Wheat, 11.5, MYS
Price 190.00
Packing: Container, in bulk
Trade: Bid
Dated: 14.07.2016
Origin: Any
QTY: 1000
Units: MT
Rate: usd/mt
ICTs: CFR
Place: Penang, Malaysia
Details:
The Buyer are ready for negotiation of contract to buy, purchase and receive commodity. Quality and Quantity of the goods are final at loading based on quality certificate issued by GAFTA IFIA member inspection company ordered and paid by seller.

Soft Milling Wheat:
Test weight Min. 76 KG/HL
Moisture Max. 14%
Foreign Matter Max. 2%
Bug Damaged Max 2%
W (Alveograph) Min. 150
Protein Min.11.5%
Gluten Min. 23 %
Falling Number Min. 250 sec.
Sound, loyal and merchantable, free from alive weevils, foreign smell, with natural colour and smell.
Shipment in bulk by FCLs. Terms of payment: CAD

Each shipped Consignment of goods is to be accompanied by the set of the original documents as follows (if not agreed another):
1. 3/3 Shipped on board B/L issued to order and marked Freight prepaid;
2. Commercial Invoice.
3. Certificate of quality and quantity;
4. Certificate of Origin;
5. Fumigation Certificate;
6. Phytosanitary Certificate;
7. Packing list;
Others terms and contitions as per GAFTA, Incoterms 2010, UCP 600 in force.

Please send offer on CFR Basis by e-mail or contact form below
Image: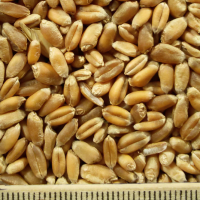 Contact Author